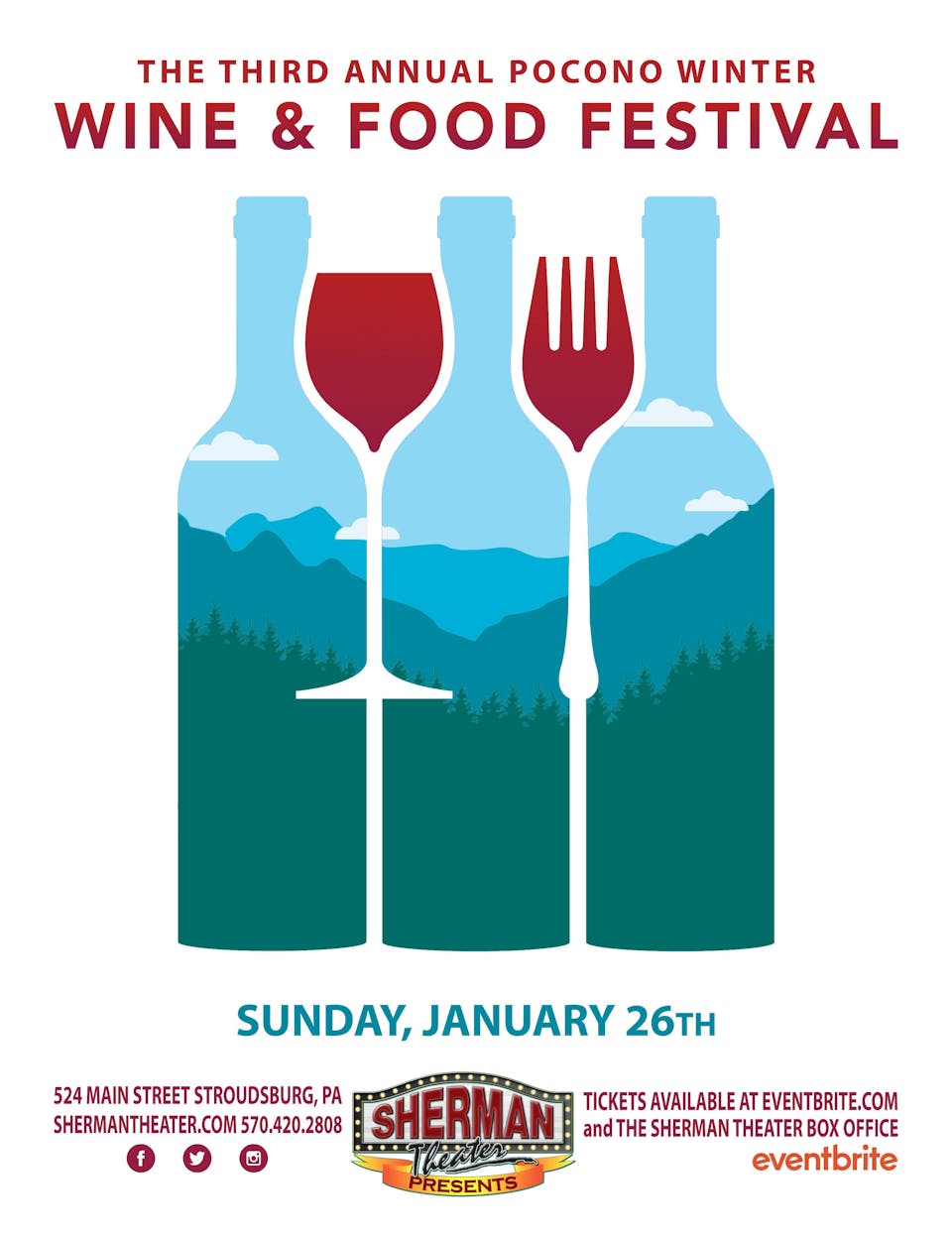 Presented by the Sherman Theater
Pocono Winter Wine & Food Festival
The Pocono Winter Wine & Food Festival returns to the Sherman Theater this January!
The 2020 Pocono Winter Wine & Food Festival will be held on Sunday, January 26 from 12:00 noon to 4:00 PM at the historic Sherman Theater in downtown Stroudsburg, PA. The Festival is designed to introduce attendees to a wide variety of local wines produced in and around the Pocono region. The event includes complimentary samples of local wine and fine cuisine from featured area restaurants, wine-related vendors and other artisan crafts, mini paint-n-sip classes, and more. The primary purpose of the event is to raise money for the non-profit Sherman Theater, to help preserve and enrich arts in the Poconos by providing a variety of shows from international acts to community theater to the newly developed Kids' Series.
In addition to complimentary samples of wine and food, all attendees receive a souvenir wine-tasting glass.
"The wine industry in the Poconos has experienced vigorous growth in the past few years so we are showcasing and celebrating local wineries and restaurants," said Rich Berkowitz, President and CEO of the Sherman Theater, the non-profit organization hosting the event. "We are here to provide these experiences for the community."
Located in downtown Stroudsburg, PA, the Sherman Theater is Monroe County's only nationally ranked, non-profit theater and performing arts center, proudly serving the Poconos for 90 years. The Sherman Theater and Performing Arts Center is committed to strengthening the community by producing culturally-diverse, nationally-known professional acts and festivals at the theater and at satellite locations throughout Monroe County for people of all ages, by providing an opportunity for local artists to perform, and by creating economic development in the region. Sherman projects and events attract over 100,000 visitors to the Pocono Region annually. For more information or to purchase tickets, please call 570-420-2808 or visit shermantheater.com.
FEATURED WINERIES:
Eagles Rest Cellars
Sleepy Cat Urban Winery
Staggering Unicorn Winery
Stone & Key Cellars
Rowan Asher Winery
Tolino Winery
Renegade Winery
Kulpmont Winery
Deep Roots Hard Cider & Winery
Antler Ridge Winery
Paired with food by Willow Tree Inn, Siamsa Irish Pub, Momento's Restaurant, Sarah Street Grill, and The Charcuterie of Stroudsburg.

Venue Information:
Sherman Theater
524 Main St
Stroudsburg, PA, 18360